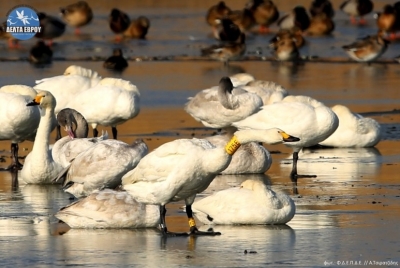 On December 20th, a Bewick's Swan with collar, was observed in the Eastern Part of the Delta, during the monitoring of the Management Body's personnel. Already, more than 425 Bewick's Swans have arrived from the north, together with 1320 Mute Swans and 9 Whooper Swans.
The collared bird (which is an adult male) was ringed on 26/12/2014 in Holland.
After its release the bird was observed many times in Holland and Belgium until March 2015. On March 31st 2015, the bird was staging in Lithuania, probably during migration to the breeding grounds in arctic tundra. A year later, just before another return to the breeding grounds, on February 10th, the bird was sighted for the first time in Greece, in the Evros Delta and also two days later in the rice fields of the Turkish Evros Delta. Ten months later the bird is wintering again in Evros Delta, where it was seen and photographed.
Διαβάστηκε 7387 φορές
Δημοσιεύθηκε στην κατηγορία
Νέα
Ευρωπαϊκή Ένωση

Ευρωπαϊκό Ταμείο

Περιφερειακής Ανάπτυξη

Με τη συγχρηματοδότηση της Ελλάδας και της Ευρωπαϊκής Ένωσης