White Stork recovery from Poland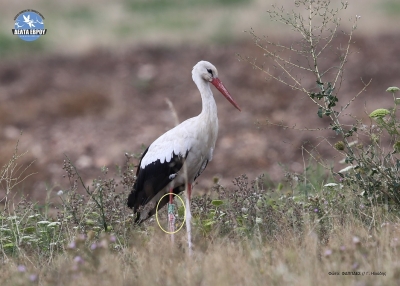 The search for food for the Storks prior to their migration has already begun in the villages around the Evros Delta wetland.
On Sunday 29nd and Tuesday 31st of July, during the monitoring of storks by the staff of the Evros Delta and Samothraki Protected Areas Management Body, a White Stork which was ringed on 21st June 2017 in Studzienki, Kcynia, Kujawsko-Pomorskie, Poland was observed.
This White Stork has been observed for the first time in the area and is also its first official record after the ringing in Poland.
As the frequency and intensity of stork monitoring has increased the last years, we believe that soon we will have more recoveries from our beloved species.
George Iliadis - Environmentalist MSc
Τελευταία τροποποίηση στις Wednesday, 01 August 2018 12:38
Διαβάστηκε 5117 φορές
Δημοσιεύθηκε στην κατηγορία
Νέα
Ευρωπαϊκή Ένωση

Ευρωπαϊκό Ταμείο

Περιφερειακής Ανάπτυξη

Με τη συγχρηματοδότηση της Ελλάδας και της Ευρωπαϊκής Ένωσης