More summer observations…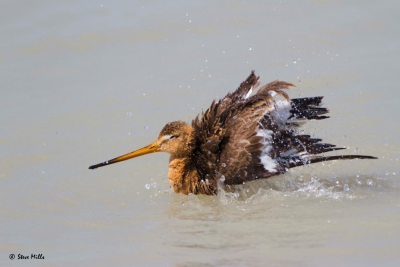 It seems that this summer is a period with record numbers of birds, in Evros Delta.
The last recordings, made by the scientific personnel of Evros Delta Management Authority, in late July and early August, registered significantly large numbers of birds.
The areas which are still flooded with fresh water become less every day and gather, as it is natural, the largest populations of birds.
Among the most important observations were the 1.135 Wood Sandpipers, 844 Greenshanks, 1.152 Little Egrets and 64 Black Storks.
It has to be noted that for all of these species, the numbers are the maximum that have ever been recorded in the Delta!
Remarkable is also the recording of 500 Spoonbills and 400 White Pelicans.
Moreover, 480 Black-tailed Godwit and 1.600 Spotted Redshanks were observed.
Finally, several other species, offer to the Delta a special touch with their presence!

Panagiotis Ioannidis
Fakriadis Yannis
Διαβάστηκε 13082 φορές
Δημοσιεύθηκε στην κατηγορία
Νέα
Ευρωπαϊκή Ένωση

Ευρωπαϊκό Ταμείο

Περιφερειακής Ανάπτυξη

Με τη συγχρηματοδότηση της Ελλάδας και της Ευρωπαϊκής Ένωσης