The White Storks are moving on with their migration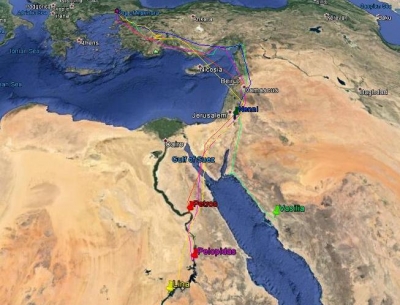 The ten Storks that we tagged in Evros area are proceeding with their migration. According to the most recent data (also in the box "White Stork Migration" in our site), Petros, Pelopidas and Lina are in Egypt, flying south, parallel to the Nile.
Vasilia has chosen a bit different route, flying through Saoudi Arabia.
Nenni is in Jordan and Spithas in Turkey.
Dimitris and Hercules seems that they did not make it, as they transmit from the same spots for days now.
Sophocles has also started its journey to the south and is located somewhere near Kessani, while Sylvia is still wandering in Evros region.
Eleni Makrigianni.
Τελευταία τροποποίηση στις Saturday, 17 August 2013 10:29
Διαβάστηκε 13502 φορές
Δημοσιεύθηκε στην κατηγορία
Νέα
Ευρωπαϊκή Ένωση

Ευρωπαϊκό Ταμείο

Περιφερειακής Ανάπτυξη

Με τη συγχρηματοδότηση της Ελλάδας και της Ευρωπαϊκής Ένωσης