First week of ringing passerines in Evros Delta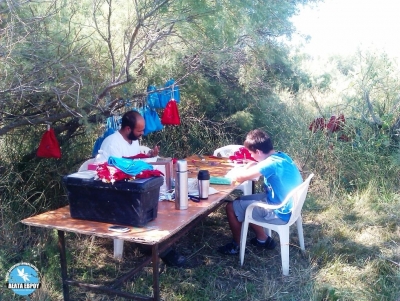 The passerine ringing (to study the autumn migration) in Armires area in Evros Delta has started in August 17th. 873 birds were trapped during the first week.
The most numerous species were the walblers (Reed, Great Reed and Sedge). Other birds were the Willow Warbler, the Cetti's Warbler, the Savi's Warbler, the Blackcap, the Whitethroat, the Red-backed Shrike and many others.
It has to be noted that among the birds that were trapped, we controlled birds ringed in previous years on the same region, while one Great Reed Warbler had a ring from Italy and one Reed Warbler from Bulgaria.
Eleni Makrigianni.
Τελευταία τροποποίηση στις Wednesday, 28 August 2013 10:59
Διαβάστηκε 12211 φορές
Δημοσιεύθηκε στην κατηγορία
Νέα
Ευρωπαϊκή Ένωση

Ευρωπαϊκό Ταμείο

Περιφερειακής Ανάπτυξη

Με τη συγχρηματοδότηση της Ελλάδας και της Ευρωπαϊκής Ένωσης