The White Storks are still migrating…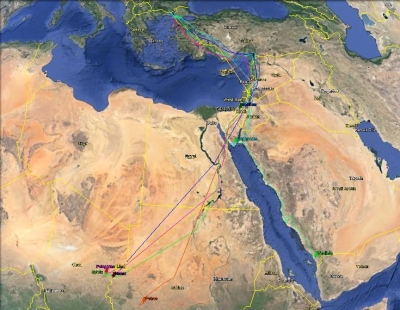 According to the last data (www.evros-delta.gr "White Stork Migration") already 5 birds are in Africa. Pelopidas, Nenni, Lina and Sylvia are located at the borders of Sudan with Chad, having covered more than 4.000 km! Petros is still in Sudan, while Vasilia following a different route is in the west coast of Saudi Arabia. Sophocles is located in Sinai Peninsula in Egypt, whereas Spithas is still in Israel.
Unfortunately, Dimitris and Hercules didn't accomplish their journey. The staff of Max Planck Institute found Dimitris lying dead among six other White Storks and the same happened with Hercules. Probably all of them were electrocuted. Dimitris was 50 km to the east of Canakkale and Hercules was 75 km to the east of Denizli, both of them in Turkey. Even though it is unpleasant to find the White Storks dead, it is very useful to know the cause of their death in order to try to minimize the difficulties they face during their migration.
Let's hope that the rest White Storks will manage to proceed with their journey…
Yanis Fakriadis
Τελευταία τροποποίηση στις Thursday, 05 September 2013 10:47
Διαβάστηκε 13056 φορές
Δημοσιεύθηκε στην κατηγορία
Νέα
Ευρωπαϊκή Ένωση

Ευρωπαϊκό Ταμείο

Περιφερειακής Ανάπτυξη

Με τη συγχρηματοδότηση της Ελλάδας και της Ευρωπαϊκής Ένωσης