Autumn Observations in Evros Delta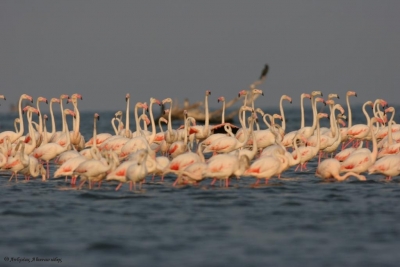 September is a transitional period in the migration of birds for the Delta, as some of them are departing and moving to the south, while the arrivals of those who winter in the area has slowly started.
The rains have comperatively delayed, having as a result only a few areas to be covered with freshwater. Generally, the numbers of birds are quite small, but with several species to be observed.
The last recording of birdlife was made by the scientific personnel of Evros Delta Management Authority, on September 23rd.
Among the most important observations was the one with more than 2.500 Flamingos, which are spread in Drana and Paloukia lagoons.
The populations of ducks increased compared to the summer, with the most numerous being the Teal (2.100 ind) and Mallard (1.300 ind), while Shovelers, Wigeons, Pintails and Gadwalls were also present.
Mute Swans barely reached the 100 ind., while at the same levels were the Dalmatian Pelicans with 105 ind.
At the beach of Apalos a rare record was made, with a Terek Sandpiper feeding in the mudflats, while an Osprey (who had just caught a fish) was flying over Paloukia lagoon.
Finally, 4 "forgotten" Black Storks were observed, while Sandwich Terns are steadily present on the beach of Apalos, with about 280 ind.
Panagiotis Ioannidis
Yannis Fakriadis
Τελευταία τροποποίηση στις Wednesday, 25 September 2013 09:03
Διαβάστηκε 13209 φορές
Δημοσιεύθηκε στην κατηγορία
Νέα
Ευρωπαϊκή Ένωση

Ευρωπαϊκό Ταμείο

Περιφερειακής Ανάπτυξη

Με τη συγχρηματοδότηση της Ελλάδας και της Ευρωπαϊκής Ένωσης