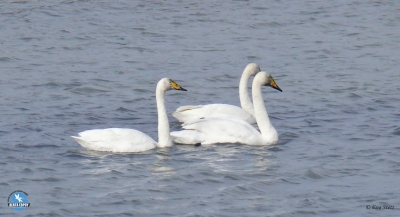 The scientific personnel of Evros Delta Management Authority continue the recording of important bird species in Evros Delta under the Monitoring Program.
Autumn progresses and the populations of waterfowl in Evros Delta are growing.
The last recording was on the 8th of November, and the most important recordings are presented here.
The most populated species among many other duck species in Delta, are Mallards with 7.000 ind. and Teals with 5.200 ind. The largest population of ducks – us usual this time of the year - was gathered in the wider area of "Paloukia" lagoon.
Also, we counted more than 4.000 Coots, most of them in the same area.
All three species of swans were present, with 330 Bewick`s Swans, 480 Mute Swans and 65 Whooper Swans.
Flamingos exceeded 3.800 ind., while Dalmatian Pelicans exceeded 350.
Geese have arrived, with 40 of White-fronted and 5 Greylags.
Finally, 4 Spotted Eagles were recorded and over 1.200 Dunlins.
Panagiotis Ioannidis
Yannis Fakriadis
Τελευταία τροποποίηση στις Saturday, 16 November 2013 08:44
Διαβάστηκε 12335 φορές
Δημοσιεύθηκε στην κατηγορία
Νέα
Ευρωπαϊκή Ένωση

Ευρωπαϊκό Ταμείο

Περιφερειακής Ανάπτυξη

Με τη συγχρηματοδότηση της Ελλάδας και της Ευρωπαϊκής Ένωσης