The White Storks journey...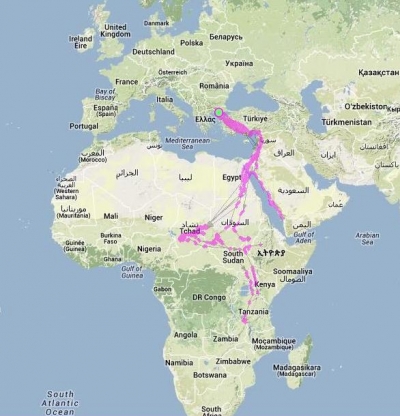 According to the last data (www.evros-delta.gr "White Stork Migration") already 6 birds are in Africa.
The transmitter of Vasilia seems to be out of order, but the last signal was from the Arabian Peninsula.
Sylvia is located at the border of Sudan with Chad, Nenni and Sophocles in Sudan, Spithas in Aithiopia, Pelopidas in Kenya, very close to National Park Serengeti .
Finally, Petros is in Tanzania and is the stork which has already covered more than 7.500 km!
Yanis Fakriadis
Τελευταία τροποποίηση στις Wednesday, 18 December 2013 07:51
Διαβάστηκε 12759 φορές
Δημοσιεύθηκε στην κατηγορία
Νέα
Ευρωπαϊκή Ένωση

Ευρωπαϊκό Ταμείο

Περιφερειακής Ανάπτυξη

Με τη συγχρηματοδότηση της Ελλάδας και της Ευρωπαϊκής Ένωσης