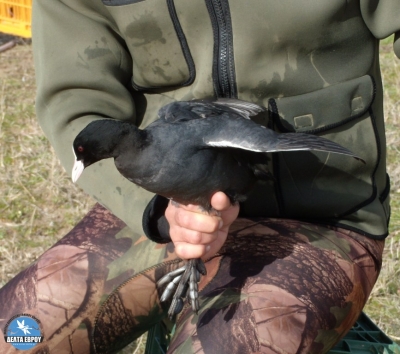 The bird traps for ringing waterfowl were installed 9 years ago in Evros Delta. They were built in the framework of the project «Determination of waterfowls' migration phenology» and their operation was continued by the project «Influence of viral proteins of avian influenza virus on the innate immune response of birds» or INNFLU until 2010. Since then, the Management Authority has been operating these traps.
During the current wintering period 191 birds were trapped, 8 of which were ringed the previous years in Evros Delta. Among the newly ringed birds, 124 were Mallards Anas platyrhynchos (76 males and 48 females), 58 Coots Fulica atra and one Pygmy Cormorant Phalacrocorax pygmaeus.
From the recaptures, the most interesting was that of two Coots on 23/12/2013, birds that were ringed together on 17/12/2009!
Yanis Fakriadis
Διαβάστηκε 12122 φορές
Δημοσιεύθηκε στην κατηγορία
Νέα
Ευρωπαϊκή Ένωση

Ευρωπαϊκό Ταμείο

Περιφερειακής Ανάπτυξη

Με τη συγχρηματοδότηση της Ελλάδας και της Ευρωπαϊκής Ένωσης