"Evros Delta: Nature, birds and humans in this unique wetland of our region"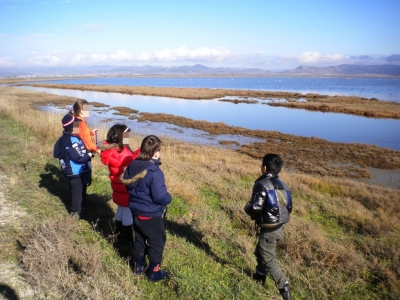 A new Environmental Education Program for the school children of the Primary Education is being realized in Evros Delta by the Management Authority. Every year, two schools of the area have the opportunity to participate in the annual projects and this year the 3rd and 7th Primary Schools were chosen, with their third grade.
The Project for the current academic year started last December with the first meeting in the schools, while the visits in the Visitor Centre and the wetland are under way.
In their first visit in Evros Delta, the pupils are learning about the habitats, the plants of the wetland and the wintering birds.
The most important of these projects is the contact with nature and the creation of feelings for it. Our little friends are especially enjoying being on the wetland, observing, learning and co-operating.
Eleni Makrigianni.
Τελευταία τροποποίηση στις Saturday, 25 January 2014 12:35
Διαβάστηκε 12493 φορές
Δημοσιεύθηκε στην κατηγορία
Νέα
Ευρωπαϊκή Ένωση

Ευρωπαϊκό Ταμείο

Περιφερειακής Ανάπτυξη

Με τη συγχρηματοδότηση της Ελλάδας και της Ευρωπαϊκής Ένωσης