The Management Authority in the British Birdwatching Fair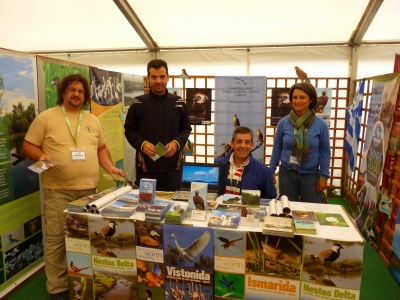 British Birdwatching Fair is the most important "meeting" for birdwatchers in the whole of Europe. It takes place in Rutland (Leicestershire), England for 26 years now.
The Fair lasts three days (15 – 17 August), and many protected areas, tourist operators, hotels, artists, optic companies participate, presentations are being performed and it is generally a celebration with a big interest in birds and wildlife.
For the first time the Management Authority, in earlier years Evros Delta was represented by Evros Prefecture, together with those of Dadia Forest and the wetland complex of Nestos – Vistonida – Ismarida took part in the Fair and gave its potentials by presenting and promoting the value of the wetland for birds and the opportunities of visiting the area.
The interest of British birdwatchers for birds is huge and we made many friends that have already enjoyed our marvelous and rare species, or plan to come very soon!
Διαβάστηκε 11779 φορές
Δημοσιεύθηκε στην κατηγορία
Νέα
Ευρωπαϊκή Ένωση

Ευρωπαϊκό Ταμείο

Περιφερειακής Ανάπτυξη

Με τη συγχρηματοδότηση της Ελλάδας και της Ευρωπαϊκής Ένωσης