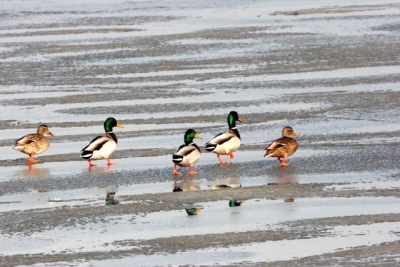 The scientific personnel of Evros Delta Management Agency continue the recording of important bird species in Delta Evros under the Monitoring Program.
The last recording was on the 24th of February, with relatively mild weather, after last month's heavy frost, which weakened birds. The winter landscape remains full of ducks, geese, raptors, herons and waders which have found a safe refuge to overwinter.
The more populated species among many other duck species in Delta, are Mallards with 22.000 ind. and Teals with 24.000 ind. The largest population of ducks was gathered in Drana and Paloukia lagoons, in the water area between the salt marshes and sandy islets as well as in the flooded areas south of Drana lagoon.
Significant numbers of geese were also recorded, especially White-fronted Geese with 8.000 ind. in the area of Kavalos-Dimitriadis-Drana, Red-breasted Geese with 100 ind. and Greylag Geese with 10 ind..
It is worth mentioning that this year's first recording of Lesser White-fronted Geese with 69 ind. on 23rd of February, is an increased number compared to the one recorded the previous winter.
Yellow-billed Swans seem to have left the wetland, while Mute Swans reached 650 ind. Regarding raptors, 5 White-tailed Eagles and 6 Spotted Eagle were recorded. The first Ruff for 2012 was also recorded nearby Drana lagoon.
Panagiotis Ioannidis
Evros Delta Management Agency
Τελευταία τροποποίηση στις Wednesday, 29 August 2012 10:11
Διαβάστηκε 14242 φορές
Δημοσιεύθηκε στην κατηγορία
Νέα
Ευρωπαϊκή Ένωση

Ευρωπαϊκό Ταμείο

Περιφερειακής Ανάπτυξη

Με τη συγχρηματοδότηση της Ελλάδας και της Ευρωπαϊκής Ένωσης