2nd Stork Festival for the ''European Stork Village''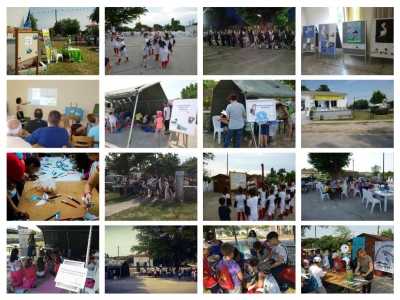 The 2nd ''Stork Festival'' was successfully held on 2nd and 3rd June in Poros.
Poros is the only ''European Stork Village'' in Greece, which was selected and awarded for its continuous contribution to the breeding and conservation of the Storks, from euroNATUR and also for its commitment to informand raise awareness ofthe local community aiming, to their protection.
The Festival was held for the 2nd consecutive year at the Primary School of Poros including a wide range of events for children and adults, in the morning and afternoon, with creative activities and games, like chess tournaments, presentations and films about the life of Storks, traditional Thracian music and dance,a tour to the Stork nests in Poros village and to the Evros River.The second day of celebration was completed on Saturday evening with greetings and speeches of the officials and ended with folkmusic and dance.
Local co-operatives, producers, associations and inhabitants of Poros village, participated in the Festival with stands and products, together with Evros Delta and Dadia Forest Management Bodies and WWF Greece.
Co-organizers of the Festival except for the Evros Delta Management Body was the Municipal Unity of Feres, the Village of Poros, the Folklorand Cultural Society of Poros "Digenis Akritas", the HEDNO Alexandroupolis and the Hellenic Stork Group ''Ciconia''.
The great success of the event reinforces the commitment of all co-organizers to continue their actions for the Stork and the protection of their natural habitats and organize again the 3nd Stork Festival next year.
Διαβάστηκε 4339 φορές
Δημοσιεύθηκε στην κατηγορία
Νέα
Ευρωπαϊκή Ένωση

Ευρωπαϊκό Ταμείο

Περιφερειακής Ανάπτυξη

Με τη συγχρηματοδότηση της Ελλάδας και της Ευρωπαϊκής Ένωσης