"Eurobirdwatch 2017 in Evros Delta"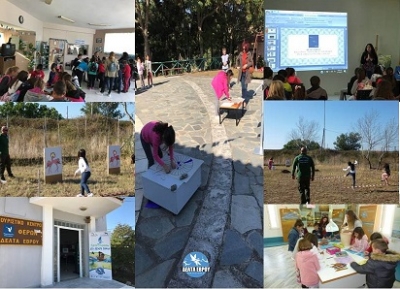 For one more year, on Tuesday 3rd of October, we celebrated the "European Birdwatching Day" in Evros Delta Visitor Centre and for the first time in the Tourist Centre of Feres, the ecotouristic operation of which is undertaken by the Evros Delta Management Body.
The event this year was dedicated to the value of the protection of migratory birds and their habitats!More than 300 schoolchildren participated coming from Primary and Nursery Schools of Anthia, Apalos, Alexandroupolis and Feres.
With a great joy the children watched a Power Point projection about the migration of birds and the value of the wetland for them.They played educational games, made handicrafts and they visited the Evros Delta National Park for bird watching.
Διαβάστηκε 5982 φορές
Δημοσιεύθηκε στην κατηγορία
Νέα
Ευρωπαϊκή Ένωση

Ευρωπαϊκό Ταμείο

Περιφερειακής Ανάπτυξη

Με τη συγχρηματοδότηση της Ελλάδας και της Ευρωπαϊκής Ένωσης