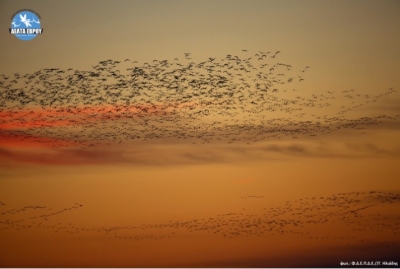 The first winter bird recordings were made with special interest, by the scientific staff of the Evros Delta Management Body. Many waterfowl birds have been counted as well as other species that have come to winter in this wonderful and important wetland.
The number of ducks began to grow sharply with the most numerous species being the Mallard with nearly 11,000 birds, followed by 5.000 Wigeons, 3.500 Shovelers, 1.360 Common Teals, 735 Shelducks and 360 Northern Pintails. 11 Spotted Eagles and 2 White-tailed Eagles were also observed.
During the afternoon's count, 4.000 Yellow-billed Swans (most of them Bewick's) were recorded in the Turkish part of the delta, where they feed around the rice crops and after the sunset return to the Greek part to roost.
Just before and during sunset, thousands more birds returned from Turkey including 1,360 Ruddy Shelducks, 150 pelicans and about 5,000 Flamingos, which literally covered the sky, offering a fantastic view.
In the lagoons and the islets of Evros Delta, which have always a special interest, 7.397 Dunlins were recorded, the biggest number of the species in the wetland the last decade. 179 Grey Plovers, 150 Northern Lapwings and about 3,600 (additional to the 5000) Flamingos were also counted.
Finally, the geese are slowly making their appearance to remind us that during winter the wetland is at its best with many species and tens of thousands of birds.
Διαβάστηκε 4906 φορές
Δημοσιεύθηκε στην κατηγορία
Νέα
Ευρωπαϊκή Ένωση

Ευρωπαϊκό Ταμείο

Περιφερειακής Ανάπτυξη

Με τη συγχρηματοδότηση της Ελλάδας και της Ευρωπαϊκής Ένωσης