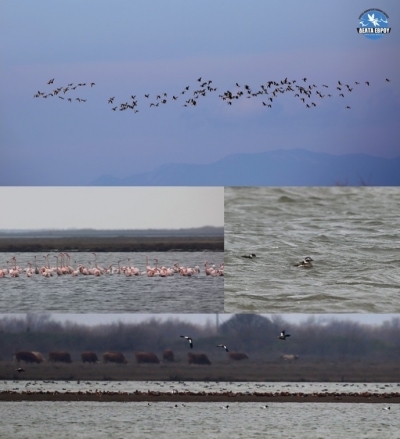 Τhe beginning of the new year had a special surprise for the scientific staff of the Evros Delta Management Body which during the recordings observed a female Long - tailed Duck.
Large numbers of ducks such as Common Teals (16.930 birds), Mallards (12.370 birds), Wigeons (11.630 birds), Shovelers (4.935 birds) and Shelducks (665 birds) were also observed.
Swans (1.575 Bewick's, 25 Whoopers, 150 Mute) and geese (300 White - fronted, 305 Greylag, 3 Red - breasted) are moving around all over the wetland seeking for the best place to forage and roost.
A great number of waders, feed mainly at the islets of the wetland with the most numerous species being the Dunlin (2.145 birds), the Common Redshank (258 birds), the Eurasian Curlew (138 birds) and the Eurasian Oystercatcher (110 birds).
Quite remarkable is the fact that during the last years big numbers of Ruddy Shelducks (2,150 birds at the last count) and Flamingos (3,500 birds) are observed at the delta, which together with Bewick's Swans feed at the Turkish part and return to the Greek part for roosting.
Διαβάστηκε 5610 φορές
Δημοσιεύθηκε στην κατηγορία
Νέα
Ευρωπαϊκή Ένωση

Ευρωπαϊκό Ταμείο

Περιφερειακής Ανάπτυξη

Με τη συγχρηματοδότηση της Ελλάδας και της Ευρωπαϊκής Ένωσης