3nd Stork Festival, Poros 2018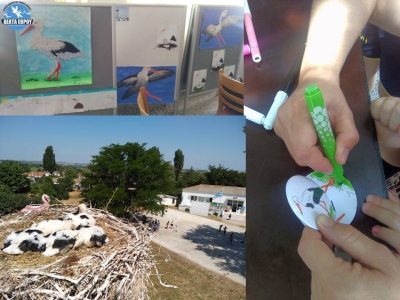 The 3nd Stork Festival was successfully held on 8th and 9th of June in Poros.
The participation of the public from the village of Poros and the wider region washuge during the two-day event, which was organized by the Evros Delta Management Body the Municipality of Alexandroupolis – District of Feres, the village of Poros in cooperation with many locals, contributing to the success of the organization.
In the Festival, youngs and adults had the opportunity to play, learn and be entertained through experimental and interactive activities.
The first day began with educational activities and games for children, informative presentations about the Storks, guided tours to the Stork nests in Poros Village and to the Evros River.
The second day included football and chess tournaments, stork's ringing, cycling tours, yoga activities for adults and children and a performance by pupils of Primary Schools of Feres, speeches and greetings from the officials and traditional folk music and dance.
Co-organizers of the Festival except for the Evros Delta Management Body was the Municipal Unity of Feres, the Village of Poros, the Folklorand Cultural Society of Poros "DigenisAkritas", the HEDNO Alexandroupolis and the Hellenic Stork Group ''Ciconia''.
We are very grateful for their participation, their help and the excellent cooperation to the students and teachers of the 2nd and 3rd Primary Schools of Feres, the Child Care Center of Feres, Voulgaridou Lia, Pavlaki Marina, the clubs ''Orfeas'' and ''Agia Sofia'' of Feres, the sponsors Macedonia-Thrace Brewery Vergina and Dasteridis industrial company, the National emergency Center, the 31st Army Brigade, the Police Station of Feres, the Management Body of Dadia Forest and WWF Greece.
Guided by the success of the last years we are committed to organize the 4th Stork Festival and continuing actions to protect the Storks and its habitats in the future.
Διαβάστηκε 4884 φορές
Δημοσιεύθηκε στην κατηγορία
Νέα
Ευρωπαϊκή Ένωση

Ευρωπαϊκό Ταμείο

Περιφερειακής Ανάπτυξη

Με τη συγχρηματοδότηση της Ελλάδας και της Ευρωπαϊκής Ένωσης