15th Meeting of the ''European Stork Villages'' Networκ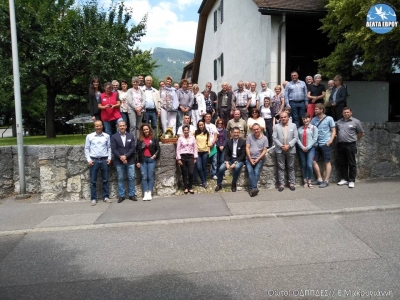 The 15th Annual Meeting of the ''European Storks Villages'' Network was held in Selzach / Altreu, Switzerland on 14-17 June 2018.
The Greek "European Stork Village", Poros, was represented by the Management Body of Evros Delta and Samothraki Protected Areas and the Deputy Mayor of Feres.
During the conference, representatives from 12 Villages of the Network, had the opportunity to share knowledge, experiences and new ideas for the protection and conservation of this migratory bird.
The Villages presented with posters what actions they had takensince last year's meeting, in the context of the protection of Storks. They also discussed about the risks of collision and electrocution in electricity wires thatthreaten the Storks population and the measures which have to be taken to mitigate negative effects.
Furthermore, they discussed for the importance of public awareness campaigns and the benefits of promotional activities and their contribution to the development of tourism in each region.
Finally, Euronatur presented the "Wet meadows and pastures" program, which finance programs for the second time in stork villages, for the improvement and creation of wet meadows and pastures and a new program which will support measures to reduce the risk of Stork's collision on electric wires.
Τελευταία τροποποίηση στις Monday, 25 June 2018 11:03
Διαβάστηκε 4535 φορές
Δημοσιεύθηκε στην κατηγορία
Νέα
Ευρωπαϊκή Ένωση

Ευρωπαϊκό Ταμείο

Περιφερειακής Ανάπτυξη

Με τη συγχρηματοδότηση της Ελλάδας και της Ευρωπαϊκής Ένωσης