New national record for the Ruddy Shelducks in the Evros Delta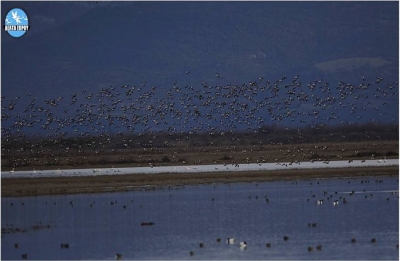 Winter brings many impressive observations in the Evros Delta! Together with the Lesser White – fronted Geese, big flocks of Ruddy Shelducks find shelter in the wetland moving to and from the Turkish part.
The Greek part of the delta offers security to the Ruddy Shelducks and every sunset the big flying flocks that come from Turkey to roost give a different dimension to the wetland. The birds sleep at the wet meadows and shallow waters. Most of the day they spend it to the rice fields of the Turkish part.
The last years an increase in the wintering populations of the species has been recorded in the Delta. The first days of January, 5720 birds have been observed in the delta, which is a national record. Ruddy Shelducks are also breeding in the Evros Delta. It needs also to be noted that it is a rare species, listed as Vulrenable in National and European level.
Τελευταία τροποποίηση στις Monday, 14 January 2019 11:09
Διαβάστηκε 5601 φορές
Δημοσιεύθηκε στην κατηγορία
Νέα
Ευρωπαϊκή Ένωση

Ευρωπαϊκό Ταμείο

Περιφερειακής Ανάπτυξη

Με τη συγχρηματοδότηση της Ελλάδας και της Ευρωπαϊκής Ένωσης