Tern raft to help Common Terns to breed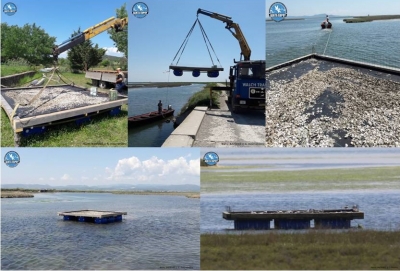 Bird migration is slowly completed and some species are already breeding in the Delta, while others are just starting. Among them terns are looking for suitable breeding sites, especially on the sandy islets
To help terns find safe breeding places, the Management Body, with a financing by Birdwing, built a wooden tern raft and placed it on a lagoon in a central place of the wetland.
Five days later, the first Common Terns are trying to build their nests. The spot is protected by the winds and sea currents and we hope that many pairs will succeed to raise their families there.
Tern rafts attract very quickly and easily the breeding pairs and have been placed in many wetlands worldwide and also in Greece.
It needs to be noted that this is another important cooperation between the Management Body and Birdwing, as in the past with its help and financing a platform to attract pelicans was built as well as nest boxes to attract Kestrels and Rollers.
Διαβάστηκε 3694 φορές
Δημοσιεύθηκε στην κατηγορία
Νέα
Ευρωπαϊκή Ένωση

Ευρωπαϊκό Ταμείο

Περιφερειακής Ανάπτυξη

Με τη συγχρηματοδότηση της Ελλάδας και της Ευρωπαϊκής Ένωσης