New breeding season for the Storks of Evros Delta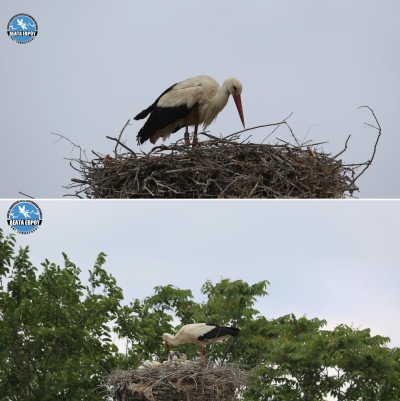 Stork is one of the most famous and most impressive species of birds in Greek wetlands but also in towns and villages. Like every year, the Storks from the beginning of March fill the area around the Evros Delta, where one of the largest populations in Northern Greece is hosted.
During the annual recording of the stork breeding, the staff of the Management Body of Evros Delta and Samothraki Protected Areas recorded a total of 53 nests with 124 chicks in the wider Delta area.
During the recordings of the nests in Feres (32 nests - 64 chicks) a ringed Stork was observed. It was ringed by the staff of the Management Body during the Stork Festival in the European Stork village of Poros (12 nests - 32 chicks the current period) in 10 June 2016. In the remaining areas (Monastiraki, Loutra, Anthia, Aristino, Donissos, Apalos, Maistros), there were a total of 9 nests with 28 chicks.
Finaly, in Evros Delta, in the area called Valtos, a pair of Storks is trying to breed in a plastic nest that was placed a few years ago.
Διαβάστηκε 5706 φορές
Δημοσιεύθηκε στην κατηγορία
Νέα
Ευρωπαϊκή Ένωση

Ευρωπαϊκό Ταμείο

Περιφερειακής Ανάπτυξη

Με τη συγχρηματοδότηση της Ελλάδας και της Ευρωπαϊκής Ένωσης