25 year old Flamingo in Evros Delta Wetland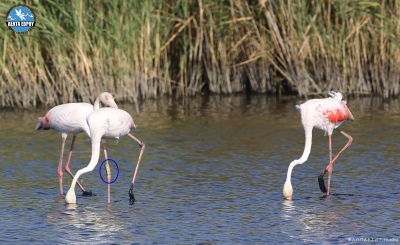 The Bird migration is ongoing and the number of Flamingos originating from their breeding areas has begun to increase in the Evros Delta.
During the monitoring program, a special surprise awaited the Staff of the Management Body, as among the recorded birds there was a ringed Flamingo, ringed in 1994 in Camargue, ​​France, where more than 10,000 pairs of Flamingos breed.
This is the first observation of the bird in the wetland and at the same time one of the oldest observed and recorded in the area.
In recent years, many ringed Flamingos have been recorded in the wetland due to the Managements' Body activity. These observations provide valuable data for birds and for the value of the wetland for ornithofauna.
Διαβάστηκε 11961 φορές
Δημοσιεύθηκε στην κατηγορία
Νέα
Ευρωπαϊκή Ένωση

Ευρωπαϊκό Ταμείο

Περιφερειακής Ανάπτυξη

Με τη συγχρηματοδότηση της Ελλάδας και της Ευρωπαϊκής Ένωσης