Surprises during ringing waterfowl…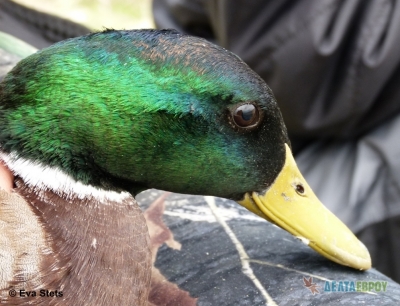 A lot of waterfowl birds already came to overwinter in Evros Delta. The Evros Delta Management Authority has already started to operate the ringing traps.
Today, 30th of October, the first two Mallards Anas platyrhynchos of this season were found into the traps. The first was a first year male, trying to escape. After ringing and taking some measurements the bird was released immediately. The second was a surprise for us: it was a ringed one! Its data: Male, that was ringed on 7/11/2011 and was recaptured once again.
Last year, a total of 272 Mallards were ringed in Evros Delta, including 100 female and 172 male birds. We hope this year we will ring more…
Yanis Fakriadis
Evros Delta Management Authority
Τελευταία τροποποίηση στις Wednesday, 31 October 2012 09:36
Διαβάστηκε 14000 φορές
Δημοσιεύθηκε στην κατηγορία
Νέα
Ευρωπαϊκή Ένωση

Ευρωπαϊκό Ταμείο

Περιφερειακής Ανάπτυξη

Με τη συγχρηματοδότηση της Ελλάδας και της Ευρωπαϊκής Ένωσης