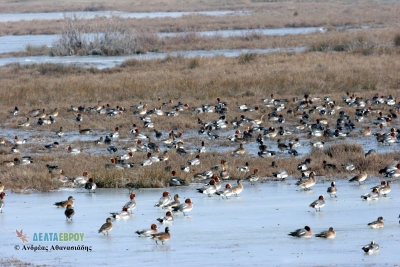 The scientific personnel of Evros Delta Management Authority continue the recording of important bird species in Evros Delta under the Monitoring Program.
Winter has come and the populations of waterfowl in Delta are growing. During the last recording, on 7th December, the weather had started to cool and the temperature was 5 oC. After a long time we had significant rainfall in the Delta, which effected many areas to flood and host many birds.
The ducks were counted in significant numbers, and the most populated species are Teals that exceeded 26,000, followed by Mallards with 18,000 ind. and Wigeons with 3,500 ind. The largest populations of ducks were gathered in the wider area of "Drana," lagoon, especially in the flooded areas in the south, while significant are also the populations in "Paloukia" lagoon and in the flooded areas around it.
The Mute Swans exceeded 260 ind., Flamingos exceeded 2,100 ind. and geese in small numbers with as many as 110 ind. of White-fronted and 51 of Greylags.
7 White-tailed Eagles were recorded, 9 Spotted Eagles, about 50 Marsh Harriers and several Avocets were observed (400ind.) along with 190 Curlews and 400 Dunlins.
Finally in the recordings in the roosting places of swans and raptors (at 6 and 10/12), there were about 1.300 swans (most of them yellow-billed) which in the first light left for Turkey and 14 Spotted Eagles and 8 White-tailed Eagles.
It is worth mentioning, the observation of a Mute Swan with a neckcollar, which was placed in summer 2009 in Ukraine.
Significant was the contribution to the recordings, by volunteers of WWF Dadia, whom we thank.
Panagiotis Ioannidis
Fakriadis Ioannis
Evros Delta Management Authority
Τελευταία τροποποίηση στις Thursday, 13 December 2012 11:40
Διαβάστηκε 15098 φορές
Δημοσιεύθηκε στην κατηγορία
Νέα
Ευρωπαϊκή Ένωση

Ευρωπαϊκό Ταμείο

Περιφερειακής Ανάπτυξη

Με τη συγχρηματοδότηση της Ελλάδας και της Ευρωπαϊκής Ένωσης