The Lesser White Fronted Geese again in Evros Delta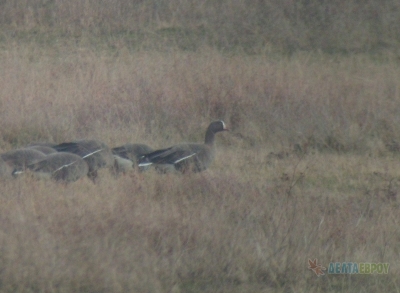 Winter has come for good in Evros. It is the season with the biggest populations of birds in Evros Delta, the season when thousands of ducks, geese, swans, waterfowl and raptors find refuge in the lagoons and the wet meadows.
For the swans and geese, Evros Delta is the most important area in Greece. The swans (Mute, Whooper and Bewick) are observed in the shallow lagoons and coastal areas, while the geese (White fronted, Greylag, Red Breasted and Lesser White fronted) mainly in Dimitriadis meadows.
The numbers of geese are increasing day by day, as it happens every January and February. On January 9th, the Lesser White fronted Geese were observed for the first time this year in Evros Delta. After the main group stayed in Kerkini for a few weeks since the mid autumn, 61 individuals were observed in Dimitriadis meadow, on the western part of the wetland.
The Lesser White fronted Goose is a Globally Threatened Species and its European population numbers 20 – 25 pairs. It breeds in Northern Norway and follows a specific migration route to the south every year, through Estonia and Hungary to end up in Evros Delta, from where it begins its return every March.
Evros Delta Management Authority is monitoring the species for many years now, while since 2012 it participates in a European LIFE Project for the safeguarding of the species through its migration route.
Eleni Makrigianni
Evros Delta Management Authority.
Τελευταία τροποποίηση στις Thursday, 17 January 2013 07:27
Διαβάστηκε 18089 φορές
Δημοσιεύθηκε στην κατηγορία
Νέα
Ευρωπαϊκή Ένωση

Ευρωπαϊκό Ταμείο

Περιφερειακής Ανάπτυξη

Με τη συγχρηματοδότηση της Ελλάδας και της Ευρωπαϊκής Ένωσης