Short and long distance movements of waterfowl…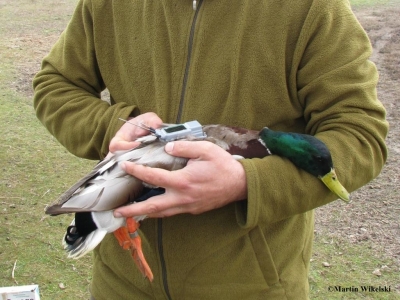 Although the Mallard Anas platyrhynchos and the Coot Fulica atra are two of the most common water birds of Greek wetlands, they keep many secrets about the time and way of their migration. They also keep secrets about the habitat use during their wintering.
Even though we observe the water birds in certain habitats in Evros Delta during the day, we can not be sure for the movements that they make during the night, or for which habitats they use during migration.
In order to answer those questions, the personnel of Evros Delta Management Authority, in co-operation with Professor Dr. Martin Wikelski and his colleagues, of the Max Planck Institute for Ornithology, we placed transmitters in one male Mallard and one male Coot on Monday 25th of February. The birds were trapped on the bird cages that the Management Authority is operating since 2005, on which more than 1300 birds of 11 species have been trapped and ringed.
From the data we collected the first few days, we received information about the local movements between the suitable habitats the birds use for foraging and roosting. The Coot has started its migration and is already in the Danube. Download HERE the kmz file to see the route in google earth.
It has to be noted that the project is hosted by MOVEBANK, a free, online database of animal tracking data (www.movebank.org).
We would like to thank our friends from the Max Planck Institute for Ornithology for the perfect co-operation which we hope will be continued in the future. We also hope that the data we will collect will help towards the effective protection of birds and their habitats.
Yannis Fakriadis
Evros Delta Management Authority
Τελευταία τροποποίηση στις Monday, 04 March 2013 11:13
Διαβάστηκε 18416 φορές
Δημοσιεύθηκε στην κατηγορία
Νέα
Ευρωπαϊκή Ένωση

Ευρωπαϊκό Ταμείο

Περιφερειακής Ανάπτυξη

Με τη συγχρηματοδότηση της Ελλάδας και της Ευρωπαϊκής Ένωσης