Storks in Feres and Poros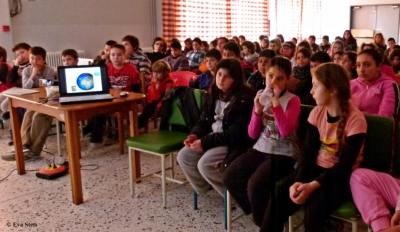 Feres and Poros settlements are located nearby the Evros Delta National Park. Due to this proximity, there is an intense presence of storks in those settlements.
Each settlement hosts over 20 pairs of Storks, during the spring and summer season.
Stork is a very popular bird species and it is closely related with the rural residents. Many beliefs are for storks of particular relevance to family life.
In order the public awareness of the stork population to be raised, the Evros Delta Management Authority, in cooperation with the Mayoralty of Feres and the Head of School Activities for Primary Education of Evros Prefecture, began the implementation of an Environmental Education Program for the Primary Schools of Feres.
Students from all three primary schools participate in the program, during which, they will record the evolution of breeding of storks, they will count the total number of nests in Feres and Poros, they will participate in ringing chicks and will make an event about the presence of the birds in the area.
The purpose of the program, among others, is to protect the species through public awareness and practical actions, such as risk avoidance during breeding (instant information about birds falling from the nest, removal of twine and garbage etc.).
Eleni Makrigianni
Evros Delta Management Authority
Τελευταία τροποποίηση στις Thursday, 28 March 2013 10:53
Διαβάστηκε 17004 φορές
Δημοσιεύθηκε στην κατηγορία
Νέα
Ευρωπαϊκή Ένωση

Ευρωπαϊκό Ταμείο

Περιφερειακής Ανάπτυξη

Με τη συγχρηματοδότηση της Ελλάδας και της Ευρωπαϊκής Ένωσης