Environmental Education Program in Evros Delta Season 2012-2013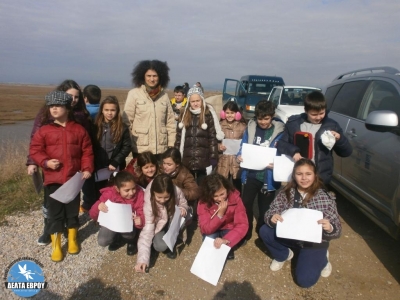 During the school season 2012-2013, the Evros Delta Management Authority began the implementation of the Environmental Education Program in Evros Delta in cooperation with the Head of School Activities for Primary Education of Evros Prefecture.
The 2nd and 3rd primary schools of Alexandroupolis take part in the Program. More specifically, the third and fourth grade classes from the 3rd primary school and two fourth grade classes from the 2nd primary school participate in the Program.
It is titled: "Learning about nature, wetlands, birds and people… through Evros Delta" in order to raise pupils' awareness for the protection of Evros Delta.
Some of the Program's aims are:
-The contact and the acquaintance of the pupils with the natural environment and the wetland
-The acquisition of basic knowledge about the wetlands and its birds
-The contact with the local society and the stakeholders of the wetlands
-The team work
The activities that the pupils participate are the followings:
-Acquaintance with the Visitor Centre and the wetland
-Courses for wetland' habitats identification
-Courses for plant identification
-Courses for bird identification
-Contacts with users (fishermen, stock – breeders, etc.) of the wetland
-Contacts with governmental services and bodies that are related to the wetland
-Participation in bird ringing
-Handicraft creations
-Final presentation
Many of the activities have already been performed and the pupils are thrilled! We hope that the love they have for the Evros Delta to be transmitted to their friends and co - citizens!
It must be noted that the contribution of the teachers (including school principals) is crucial for the success of the implementation of the Program. Besides, they are sensitized for many years on the protection of the environment and the Evros Delta, while developing partnerships with the Management Authority and other bodies.
Eleni Makrigianni
Evros Delta Management Authority
Τελευταία τροποποίηση στις Tuesday, 09 April 2013 07:22
Διαβάστηκε 5082 φορές
Δημοσιεύθηκε στην κατηγορία
Νέα
Ευρωπαϊκή Ένωση

Ευρωπαϊκό Ταμείο

Περιφερειακής Ανάπτυξη

Με τη συγχρηματοδότηση της Ελλάδας και της Ευρωπαϊκής Ένωσης