WHITE STORK BREEDING CENSUS IN FERES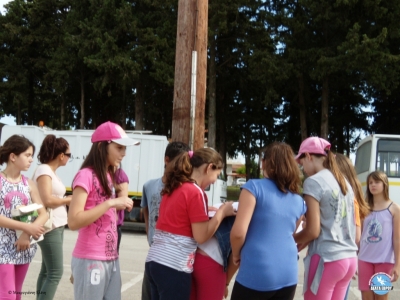 The breeding of White Storks was recorded today, 16 of May 2013, in Feres.
It is well known that Feres, because of its neighbouring with Evros Delta, hold a significant number of White Stork nests.
The census was realised on the context of the educational project the Management Authority is running with the three Primary Schools of Feres.
26 active nests were recorded. The pupils actively participated on the recording of the nests, while for the most of them, they knew already the phase of the breeding, as they have "adopted" them and monitor them closely since the end of March.
At the time being some pairs incubate, while for some others the chicks have just hatched and have started to be visible. The census will be repeated next month.
We would like to thank the pupils, the teachers and the headmasters for their wonderful effort, as well as the Responsible of School Activities of Primary Education of Evros and the Deputy Mayor of Feres.
Eleni Makrigianni
Evros Delta Management Authority
Τελευταία τροποποίηση στις Thursday, 16 May 2013 12:03
Διαβάστηκε 13771 φορές
Δημοσιεύθηκε στην κατηγορία
Νέα
Ευρωπαϊκή Ένωση

Ευρωπαϊκό Ταμείο

Περιφερειακής Ανάπτυξη

Με τη συγχρηματοδότηση της Ελλάδας και της Ευρωπαϊκής Ένωσης