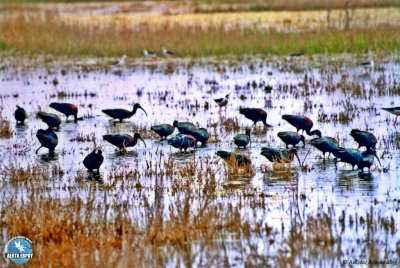 Spring brings many species of birds in Evros Delta. The last recording, made ​​by the scientific personnel of Evros Delta Management Authority, was on 15 May, and some of the most important recordings presented here.
So, important was the presence of more than 300 Glossy Ibis, 350 Whiskered Tern and 80 White-winged Black Tern.
Also observed 330 Ruff, 260 Curlew Sandpipers and 16 Turnstone.
Remarkable is also the recording of 320 Mute swans, who have left so far, and about 260 Little Egrets and 50 Squacco Heron.
Other Terns were also recorded with Little Tern, Common Tern and Sandwich Tern.
Also, important was the presence of Spur-winged Plover with 36 ind., mainly in the eastern Delta.

Panagiotis Ioannidis
Anastasios Nikolaros

Evros Delta Management Authority
Τελευταία τροποποίηση στις Saturday, 18 May 2013 10:36
Διαβάστηκε 13956 φορές
Δημοσιεύθηκε στην κατηγορία
Νέα
Ευρωπαϊκή Ένωση

Ευρωπαϊκό Ταμείο

Περιφερειακής Ανάπτυξη

Με τη συγχρηματοδότηση της Ελλάδας και της Ευρωπαϊκής Ένωσης