World Environment Day 2013 in the 2nd Primary School of Alexandroupolis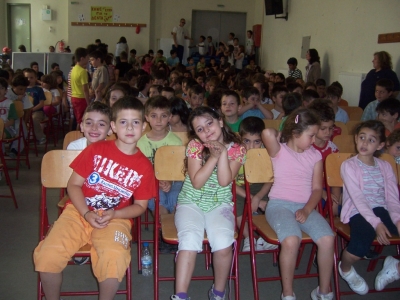 With great pleasure we celebrated this year the World Environment Day in the 2nd Primary School of Alexandroupolis. The event was realized with the co – operation of the 5th Grade, which participated in an Environmental Education Project during the school year.
The event was devoted in the Evros Delta, its values and the dangers it encounters. All the pupils of the 2nd Primary School participated.
Firstly, a Powerpoint presentation about the wetland was made, from the Management Authority, and secondly, the pupils of the 5th Grade presented their experiences from the project and their visits in Evros Delta.
We need to say that the presentation of the pupils was fantastic, as well as their participation in the project. We are thanking them for their energy, team and co – operation spirit and of course their smiles and love. We are also especially thanking the teachers of the two sections, Mrs Popi and Mr Zisis, and of course the School Director and the responsible of School Activities of the Primary Education of Evros Prefecture.
Eleni Makrigianni.
Διαβάστηκε 13174 φορές
Δημοσιεύθηκε στην κατηγορία
Νέα
Ευρωπαϊκή Ένωση

Ευρωπαϊκό Ταμείο

Περιφερειακής Ανάπτυξη

Με τη συγχρηματοδότηση της Ελλάδας και της Ευρωπαϊκής Ένωσης