White Stork ringing in Poros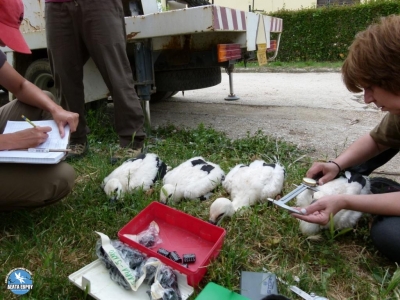 For a second consecutive year, Evros Delta Management Authority is running a White Stork ringing project with ELSA rings in the area surrounding the wetland.
This year we started from Poros and we will continue later with the rest of the villages.
In June 7th, 29 chicks were ringed from 9 different nests. In Poros, 11 nests were recorded this year, which are significantly less than 5 years ago.
The ringing expedition was organized together with Eva Stets and WWF-Dadia, whom we would like to thank.
At the same time, we would like to thank DEDDHE for its help in cutting the electricity in the village, as well as the Deputy Mayor of Feres for allowing us the use of the aerial basket vehicle.
Eleni Makrigianni.
Τελευταία τροποποίηση στις Monday, 10 June 2013 10:36
Διαβάστηκε 14012 φορές
Δημοσιεύθηκε στην κατηγορία
Νέα
Ευρωπαϊκή Ένωση

Ευρωπαϊκό Ταμείο

Περιφερειακής Ανάπτυξη

Με τη συγχρηματοδότηση της Ελλάδας και της Ευρωπαϊκής Ένωσης