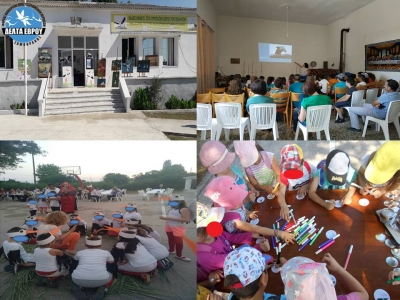 The 4th Stork Festival was successfully held for a 4th consecutive year, on 7th and 8th of June in the village of Poros!
In order to sensitize people about the Stork and its protection, the two day event was full of events for all ages.
The events took place in the primary school of Poros during the morning and afternoon and included educational activities from the Management Body of the Evros Delta and Samothraki Protected Areas and the Management Body of Dadia Forest Lefkimi Soufli National Park, games (treasure hunting, cycling tour, chess tournament), informative presentations about the Storks, Stork's ringing and guided tours to the Stork nests in Poros Village and to the Evros River.
A pleasant surprise for the children was the presentation of the fairytale "The strange company of Orpheus" by the writer Vasilis Kargas, with an interactive narration by the actor Maria Papadopoulou.
The celebration was completed on Saturday night with a musical performance by the Child Care Center of Feres, dramatization of the tale of Vassilis Kargas from the 2nd Class of the 3rd Primary School, speeches and greetings from the officials and traditional Thracian music and dance.
Co-organizers of the Festival was the Municipal Unity of Feres, the Village of Poros, the Folklorand Cultural Society of Poros "Digenis Akritas" and the HEDNO Alexandroupolis.
We are very grateful for their participation, their help and the excellent cooperation to the students and teachers of the 3rd Primary School of Feres, the Child Care Center of Feres, Voulgaridou Lia, Kargas Vasilis, Maria Papadopoulou, the clubs ''Orfeas'' and ''Agia Sofia'' of Feres, the 31st Army Brigade, the Police Station of Feres, the Management Body Dadia Forest Lefkimi Soufli National Park.
We are committed to organizing the 5th Stork Festival next year as well as protecting the Stork and its habitats with actions that will effectively contribute to the preservation of this beautiful specie.
Τελευταία τροποποίηση στις Tuesday, 11 June 2019 08:18
Διαβάστηκε 3504 φορές
Δημοσιεύθηκε στην κατηγορία
Νέα
Ευρωπαϊκή Ένωση

Ευρωπαϊκό Ταμείο

Περιφερειακής Ανάπτυξη

Με τη συγχρηματοδότηση της Ελλάδας και της Ευρωπαϊκής Ένωσης