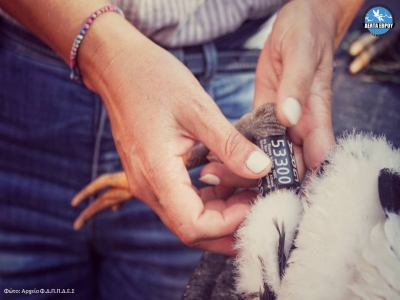 On 23 and 24 of June, the Management Body of the Evros Delta and Samothraki Protected Areas recorded the White Stork nests in Feres, Poros and in Avas, and also ringed the chicks of the storks. The two actions are carried out every year in order to record and study the population and also for the protection of the Storks.
Ringing is a monitoring method that is used to study the wild birds and record their movements. It is also used for experts to see if the Storks return to their breeding grounds, what is the survival rate of youngs and adults, as well as other information about their biology and ecology.
The Management Body, is recording the White Storks of the wider area of the Evros Delta, with countings, ringing and tagging for over fifteen years (from 2004 when the first Census was made until today). This year, 51 chicks were ringed in 19 nests! Also, many inhabitants of the villages watched the process of ringing of the chicks with a great interest. We are grateful to the HEDNO of Alexandroupolis for the excellent cooperation and the valuable help they provide to us every year.
Διαβάστηκε 948 φορές
Δημοσιεύθηκε στην κατηγορία
Νέα
Ευρωπαϊκή Ένωση

Ευρωπαϊκό Ταμείο

Περιφερειακής Ανάπτυξη

Με τη συγχρηματοδότηση της Ελλάδας και της Ευρωπαϊκής Ένωσης