World Wetlands Day 2013 in Evros Delta Visitor Center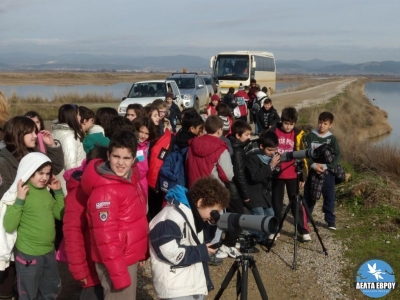 Τhe Evros Delta Management Authority successfully organized the World Wetlands Day on February 1st. The World Wetlands Day is celebrated every year around the world in memory of the Ramsar Convention, signed in 1971 for the protection of wetlands of international importance, including the Evros Delta.
The theme of this year's event was the important role of wetlands in protecting water. The event took place at the Evros Delta Visitor Center and it was attended by around 200 primary school pupils of Alexandroupolis area.
Our young friends learned about the Evros Delta through painting, crafts, discovery activities, contest with gifts and the projection of an educational presentation on the contribution of wetlands in protecting water and the overall contribution for both wildlife and humans.
The event also included a visit in the wetland's protected area where scholchildren had the opportunity to observe rare and spectacular birds through telescopes and binoculars that visit this season the Evros Delta, such as pelicans, swans and flamingos.
The Management Authority would like to thank the Municipality of Alexandroupolis, the TIEDA, the Head of School Activities of Primary Education in Evros and the volunteers of EVS program in Dadia for their contribution to the realization of the event.
Aggelidis Marinos
Evros Delta Management Authority
Τελευταία τροποποίηση στις Monday, 04 February 2013 10:26
Διαβάστηκε 6268 φορές
Δημοσιεύθηκε στην κατηγορία
Νέα
Ευρωπαϊκή Ένωση

Ευρωπαϊκό Ταμείο

Περιφερειακής Ανάπτυξη

Με τη συγχρηματοδότηση της Ελλάδας και της Ευρωπαϊκής Ένωσης