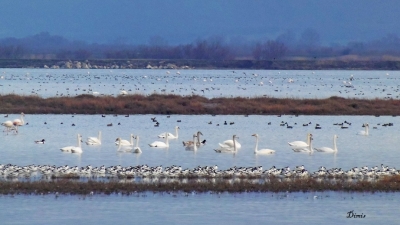 Winter is coming to its end and the visitors of the Delta are preparing to leave our region.
Nevertheless, quite a lot of birds remain in the wetland, less however than the really large numbers recorded in January.
In the last recording, made ​​by the scientific personnel of Evros Delta Management Authority, the most important observations were 18.000 Mallards, 17.000 Wigeons and fewer ducks from other species.
As for raptors, really important was the presence of Spotted Eagles with 18 individuals and White tailed Eagles with 14.
Remarkable is also the recording of 46 Knots, a species not often seen in the area.
Finally, it is worth mentioning the first White Pelicans observation of this period, with 24 ind. seen in the Western part of the Delta.
Fakriadis Yannis
Panagiotis Ioannidis

Evros Delta Management Authority
Διαβάστηκε 14457 φορές
Δημοσιεύθηκε στην κατηγορία
Νέα
Ευρωπαϊκή Ένωση

Ευρωπαϊκό Ταμείο

Περιφερειακής Ανάπτυξη

Με τη συγχρηματοδότηση της Ελλάδας και της Ευρωπαϊκής Ένωσης