Making bird feeders in 1st Primary School of Alexandroupolis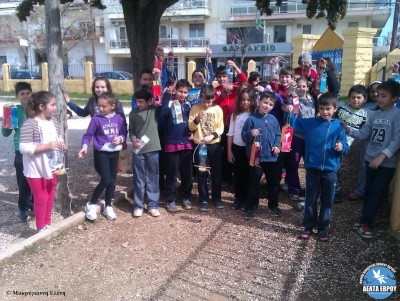 Children like a lot birds and appreciate their presence in the cities, their houses, their balconies and gardens.
School children of the 1st Primary School of Alexandroupolis were particularly impressed by the presence of many bird species in their school yard, during snack break.
So, they invited us to tell them more about birds that live close and how we can help them, especially finding food.
On March 6th, then, we talked to the Forth Grade about the birds of urban areas, we discussed about which species are observed in the school area and we made bird feeders with various materials, where we put different kinds of food, according to which bird species they wanted to support or attract during migration.
Pupils showed a responsible behavior and they undertook the task to maintain the feeders and observe the birds that use them, while they are at school. Many children made feeders also for their houses, while other grades' pupils were interested about the action and we are certain that they will learn a lot from the Fourth Grade.
Eleni Makrigianni
Evros Delta Management Authority
Τελευταία τροποποίηση στις Wednesday, 13 March 2013 07:05
Διαβάστηκε 14321 φορές
Δημοσιεύθηκε στην κατηγορία
Νέα
Ευρωπαϊκή Ένωση

Ευρωπαϊκό Ταμείο

Περιφερειακής Ανάπτυξη

Με τη συγχρηματοδότηση της Ελλάδας και της Ευρωπαϊκής Ένωσης