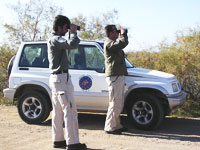 Safeguarding – wardening of the protected area is one of the most important actions implemented by Evros Delta Management Body as a continuation of the action performed under LIFE Project.
The main aim of this project is the protection of the wetland, wildlife and infrastructure, the prevention of illegal actions and activities, such as poaching, illegal cattle browsing and fishing and, in general, the control of human activities in the protected area according to the law.
1.Therefore, the targets of the project are:
2.The aimplementation of laws and rules
3.The protection of the fauna and biotopes
4.The protection of the wetland from possible dangers such as fires
5.The protection of public facilities and infrastructure
Informing and raising awareness of visitors and users of the area.
For the best possible implementation of the project, there is a cooperation of Evros Delta Management Body with the responsible authorities, such as Alexandroupolis Police Department, Fire Department, Coastguard, etc.