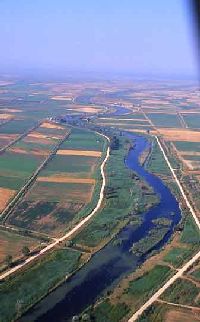 In the southeastern part of Evros prefecture, next to the border with Turkey, Evros River creates an extensive delta of international ecological importance with a total surface area of 188 km2. Evros River is the second biggest river in Eastern Europe and is characterized by the large amount of sediment that it transfers and deposits on its delta.
Evros River springs from the mountains of Rila in Bulgaria, south of Sofia. Its river basin is between the mountain ranges of Rodopi and Ainos. The total length of the river is 528 km., of which 310 km belong to Bulgaria, while 218 km determine the borders of Greece with the countries of Bulgaria and Turkey. The total river basin has a surface area of 53.000 km2 of which:
35.085 km2 (66,2%) are situated in Bulgaria ,
14.575 km2 (27,5%) are situated in Turkey,
and3.340 km2(6,3%) are situated in Greece.
It is estimated that the minimum water supply of Evros River is approximately 8 m3 /sec, while the mean water supply is estimated at about 100 m3 /sec. The climate of the Evros Delta area is Mediterranean although it is affected by continental climate conditions. The winter is severe and early or late frosts are often observed. The quantity of rainfall is unequally distributed during the year and rain is rarely observed during the summer.
Evros Delta constitutes one of the most important wetlands, not only in Greece but also in Europe. A surface area of 9.500 ha (8.000 ha of land and 1.500 ha of water) has been included in the list of protected wetlands of the International Ramsar Convention (1971), because it hosts important bird species. Furthermore, the Evros Delta is characterized as a Special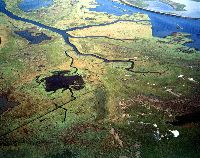 Protection Area (SPA) and is proposed as a Site of Community Importance (pSCI) in the Natura 2000 network (according to Directives 79/409/EEC and 92/43/EEC, respectively).