The White Stork journey has begun…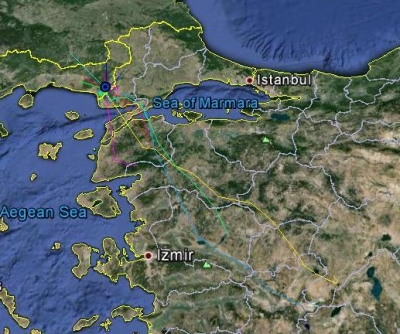 The White Storks that were born this year are already flying, while some of them have started their migration to the south.
We have the opportunity to observe ten of them daily, through the transmitters the Evros Delta Management Authority put on their backs. Those ten White Storks from Feres (Evros) will "be with us" with their journey for a long period, we hope, as we are very interested in where they are going and what will happen to them.
The young birds belong to three families. Lina, Vasilia, Dimitris, Petros and Pelopidas are from one family, although we don't know yet the sex of each one. Sophokles, Spithas and Silvia are from the second, while Nenni and Hercules are from the third.
All the birds are flying and six of them have migrated and are currently in Turkey, the five of the same family and Hercules. It has to be noted that Hercules is moving together with Petros, although from different families.
One can follow the journey of the White Storks in Evros Delta Management Authority's website, on the box "White Stork Migration". The transmitters were placed on the Storks on July 2nd, in a co-operation of the Management Authority with the German Institute Max Planck.
It is already exciting to be able to follow the route of the birds that were born next to us and it is certain that they will give us amazing information and experiences the following months.
Eleni Makrigianni
Τελευταία τροποποίηση στις Friday, 09 August 2013 05:57
Διαβάστηκε 24238 φορές
Δημοσιεύθηκε στην κατηγορία
Νέα
Ευρωπαϊκή Ένωση

Ευρωπαϊκό Ταμείο

Περιφερειακής Ανάπτυξη

Με τη συγχρηματοδότηση της Ελλάδας και της Ευρωπαϊκής Ένωσης