World Wetlands Day 2012, by the Evros Delta Management Agency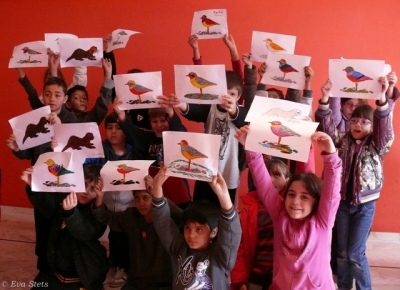 The World Wetlands Day 2012, was celebrated on the 22nd of February in the Center of the Association of Kappadocians in Alexandroupolis. The event was initially scheduled on the 2nd of February, but postponed due to severe weather conditions.
The Ramsar Convention was signed 41 years ago, with ten wetlands of international importance in Greece, including Evros Delta. In memory of the Convention, the World Wetlands Day is celebrated worldwide every year, on the 2nd of February.
The subject of this year's event was "Wetland tourism: a great experience". The value of the Evros Delta and other wetlands for ecotourism was highlighted.
The event was attended by over 400 primary school students of Alexandroupolis.
Activities involved: PowerPoint projection titled "The wetland's value for tourism", drawing, construction activities and educational activities of discovery. Souvenirs and printed material from the Evros Delta were distributed to all students.
Highlights of the event by the greek tv station "Delta TV"
The Evros Delta Management Agency, would like to thank the Association of Kappadocians "The Three Hierarchs" for the housing and the Head of School Activities of Primary Education in Evros for the cooperation.
Eleni Makrigianni
Evros Delta Management Agency
Τελευταία τροποποίηση στις Wednesday, 29 August 2012 10:10
Διαβάστηκε 19308 φορές
Δημοσιεύθηκε στην κατηγορία
Νέα
Ευρωπαϊκή Ένωση

Ευρωπαϊκό Ταμείο

Περιφερειακής Ανάπτυξη

Με τη συγχρηματοδότηση της Ελλάδας και της Ευρωπαϊκής Ένωσης