18th Annual Meeting of the ''European Stork Villages'' Networκ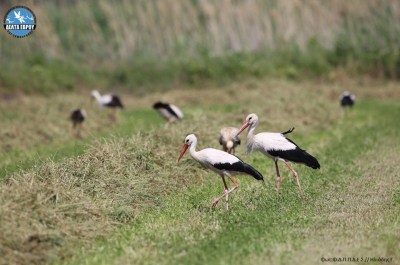 The Management Body of the Evros Delta and Samothraki Protected Areas, participated in the 18th Annual Meeting of the "European Stork Villages" which is organized by Euronatur and took place online, via zoom, due to the Corona virus measures, with its coordinator Makrigianni Eleni, as the representative of the Greek European Stork Village of Poros.
During the conference, representatives from 11 Villages of the Network, had the opportunity to share knowledge, experiences and new ideas for the protection and conservation of this lovable species which make our villages and towns more beautiful with its presence.
The Villages presented the actions they had taken since last year, in the context of the protection of Storks and then discussed the developments they had achieved in the context of the "Wet meadows and pastures" program which is responsible for the improvement and creation of wet meadows and pastures for the Stork as also for the future plans of the project.
On the second day of the meeting, the representatives of the European Stork Villages discussed about the School Gardens Program, a new Program that started to be implemented last year and is funded also by Euronatur. The School Gardens Program aim, is to promote the values of organic farming, food quality and extensive livestock. The Management Body implements the program in collaboration with the 2nd Primary School of Feres. The program includes a variety of activities, such as growing vegetables, flowers, shrubs and trees, implementing an Environmental Education program, creating compost, bird feeders and insect hotels and also a Harvest Festival is going to take place at school for all students and the local community to realize the benefits of growing food.

Διαβάστηκε 3353 φορές
Δημοσιεύθηκε στην κατηγορία
Νέα
Ευρωπαϊκή Ένωση

Ευρωπαϊκό Ταμείο

Περιφερειακής Ανάπτυξη

Με τη συγχρηματοδότηση της Ελλάδας και της Ευρωπαϊκής Ένωσης