Bird breedings in the Evros Delta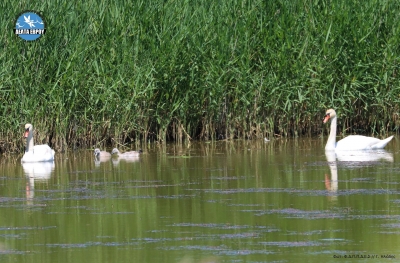 Evros Delta is an area of great value for many species of birds that choose it during their migration from the north to the south or vice versa, for the variety of its habitats, the abundance of food it provides and the security they need for their survival.
Areas of fresh, brackish and salt water, such as riparian forests, wet meadows, reedbeds, lagoons, salt marshes and sandy islets, are habitats that create ideal conditions, giving the chance in a wide variety of species to create their families.
In the context of the scientific monitoring of the birds, the staff of the Management Body had the pleasure to observe three beautiful families of waterfowl, splashing carefree, enjoying the warm weather and the peaceful landscape. Specifically, a pair of Mute Swans was accompanied by their two chicks, while two families of ducks – Common Shelducks and Ruddy Shelducks – accompanied by their chicks also, patiently searching for food, looking for something interesting on the surface of the water.
This year's breeding season seems to have gone very well for some species and we expect more pleasant surprises in next recordings… with many more births!
Τελευταία τροποποίηση στις Thursday, 03 June 2021 06:28
Διαβάστηκε 4556 φορές
Δημοσιεύθηκε στην κατηγορία
Νέα
Ευρωπαϊκή Ένωση

Ευρωπαϊκό Ταμείο

Περιφερειακής Ανάπτυξη

Με τη συγχρηματοδότηση της Ελλάδας και της Ευρωπαϊκής Ένωσης