SATELLITE TRASMITTER ON A BLACK KITE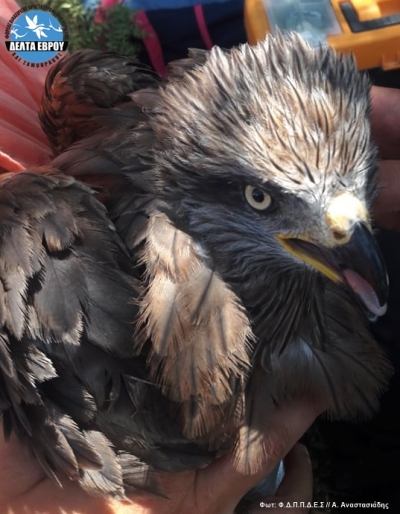 The Management Body of Evros Delta and Samothraki Protected Areas within the framework of the YMEPERAA Program, implements a Program for monitoring the movements and other biological parameters of the birds, through the mounting of satellite transmitters and bird ringing.
In almost all European countries and most recently in Greece, every year, several species of birds are carefully captured, ringed and mounted with satellite transmitters by specialized personnel and then released.
The purpose of mounting satellite transmitters is to acquire the knowledge necessary for the management and protection of birds. In particular, the ringing and mounting of transmitters provide special information:
• for the daily movements of the birds
• for their wintering places
• for their loyalty to wintering areas
• for their roosting places
At the same time, information is collected about the age of the bird, its nesting and feeding areas, its behavior in relation to daily movements is also monitored and its population and population changes are assessed in combination with other methods.
The staff of the Management Body of Evros Delta and Samothraki Protected Areas in collaboration with Mr. Lavrentis Sidiropoulos (partner of NCC), on July 23 captured a Black Bite in the Southern Evros Forest (Natura area GR1110009 NOTIO DASIKO SYMPLEGMA EVROU under the management of the Management Body). From the data collected by the transmitter in recent days, we observe that the bird systematically, almost every day, visits the garbage dump in the area of ​​Avantas, crossing the Egnatia Highway. It moves for feeding to the river (Evros), where several Lesser spotted Eagles also feed, but also to the feeder in the National Park of the forest of Dadia.
Διαβάστηκε 5216 φορές
Δημοσιεύθηκε στην κατηγορία
Νέα
Ευρωπαϊκή Ένωση

Ευρωπαϊκό Ταμείο

Περιφερειακής Ανάπτυξη

Με τη συγχρηματοδότηση της Ελλάδας και της Ευρωπαϊκής Ένωσης