Recovery of a ringed White Stork in Feres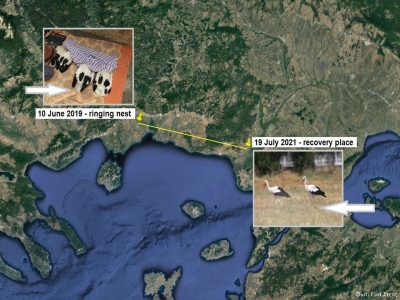 On July 19th, in the fields outside Feres, a ringed White Stork was observed by the staff of the Management Body. This particular bird was ringed two years ago as a chick, in Genisea, Xanthi. It is observed for the first time in the area and is also the first official recording after its ringing.
The special ELSA type rings used for its ringing, which are plastic, last a lifetime and allow observation from a distance with binoculars or a telescope. Each ring has a unique number and country code, so that if a stork is observed even in another country, its identity and information about its movements, age, etc. can be known.
The Management Body monitors the Storks of the wider area of ​​the Evros Delta, with recordings, rings and satellite transmitters for over fifteen years (from 2004 when the first Census was made until today).
Since we are in a period of intense movements of large groups of storks, any resident of the area who detects a ringed bird can report his observation to the Management Body.
Τελευταία τροποποίηση στις Friday, 13 August 2021 11:04
Διαβάστηκε 5374 φορές
Δημοσιεύθηκε στην κατηγορία
Νέα
Ευρωπαϊκή Ένωση

Ευρωπαϊκό Ταμείο

Περιφερειακής Ανάπτυξη

Με τη συγχρηματοδότηση της Ελλάδας και της Ευρωπαϊκής Ένωσης