Bewick's Swans Record in the Mid-Winter Counts in the Evros Delta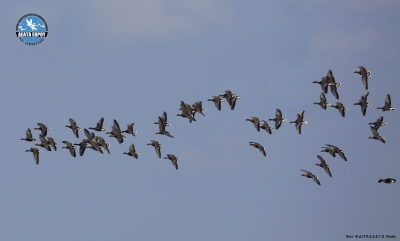 On Sunday, January 16, the staff of the Management Unit of Evros Delta and Dadia National Parks and Eastern Thrace Protected Areas participating in the Mid-Winter Counts, which are taking part simultaneously in many countries around the world, monitored the total number of birds in the wetland.
At the same time, the counts were carried out in the Turkish part of the Evros Delta by Turkish ornithologists estimating the total value of the Evros Delta for the birdlife in both sections.
Mid-Winter Counts are held every year in more than a hundred countries, within the framework of the global monitoring program by Wetlands International organization for fifty years!
For another winter, the Evros Delta impresses us with the big numbers of waterbirds that it hosts. This year we have a new record of Bewick's Swans with their number approaching 11,000 (10,955 to be exact). Large and growing populations overwinter in the Delta region and move between Turkey and Greece. It is a common phenomenon that they feed during the day in the rice fields of Turkey and return to Greece in the afternoon for their roost, although several days, especially when there are harsh weather phenomena, we observe them in the Greek part also during the day.
The same behavior with the Bewick's Swans is observed for several other species, most notably the all-favorite Flamingos and Northern Pintails, where more than 5,000 and 3,500 birds were recorded respectively.
Important for another year is the presence of Lesser White - Fronted Geese, which are observed exclusively in the meadows of the Western Delta. From raptors, Spotted Eagles, Black Kites, White-tail Eagle, March Harriers, common Buzzards were observed, among others.
Also a big number of waders, herons, cormorants and pelicans.
A total of 56 species with a population of over 115,000 birds were recorded throughout the wetland (both parts) confirming its great value for the wintering of birds that come in search of safe shelter and food. 65,000 birds were recorded in the Greek part.
Διαβάστηκε 4380 φορές
Δημοσιεύθηκε στην κατηγορία
Νέα
Ευρωπαϊκή Ένωση

Ευρωπαϊκό Ταμείο

Περιφερειακής Ανάπτυξη

Με τη συγχρηματοδότηση της Ελλάδας και της Ευρωπαϊκής Ένωσης