5th Stork Festival in Poros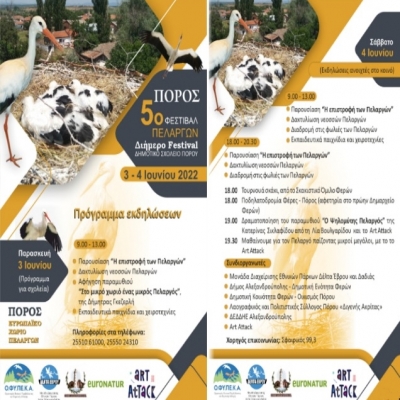 After 3 years of absence, our appointment with the White Storks in Poros returns. In the European Stork Village, in which since 2016 the protection of the White Storks is a main concern for the local inhabitants and authorities.
It will be held in the Primary School of the village on Friday 3rd and Saturday 4th of June. On Friday the activities are addressed to organized school groups, while on Saturday they are open to the public.
This year the Stork Festival is devoted to the return of the White Storks as the species is the symbol of bird migration and also because after more than a decade of ringing we have realized that also our White Storks return back to their birthplace.
We are waiting for you to celebrate with us the return of the White Storks with presentations, narrations, educational games, ringing of Storks, chess tournament, cycling tour and other activities.
Apply for your participation on the telephones: 2551061000, 2555024310.
Τελευταία τροποποίηση στις Tuesday, 31 May 2022 07:10
Διαβάστηκε 3794 φορές
Δημοσιεύθηκε στην κατηγορία
Νέα
Ευρωπαϊκή Ένωση

Ευρωπαϊκό Ταμείο

Περιφερειακής Ανάπτυξη

Με τη συγχρηματοδότηση της Ελλάδας και της Ευρωπαϊκής Ένωσης