Meeting for the Lesser – White fronted Goose in the Evros Delta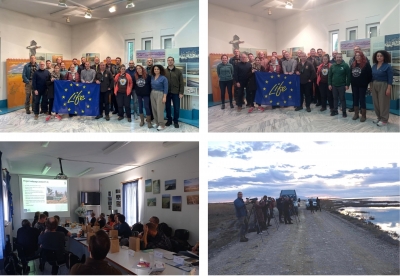 The 3rd Steering Committee of the Life Project «Providing a climate resilient network of critical sites for the Lesser White-fronted Goose in Europe» was held in November 22 – 23 in the Evros Delta Visitor Centre.

Representatives of all the partners from Finland, Estonia, Lithuania, Hungary and Greece participated in the meeting, the first with physical presence since the beginning of the project.

The implementation of the activities was discussed as well as the programming for the following stages, while the necessary directions were given from the Lead Partner.

In Evros Delta the main activity is the increase of the available habitat for the species through the improvement of the wet meadows on the Western part of the wetland (Dimitriadis area). It will be implemented mainly with the purchase of abandoned farmland and with restoration and management works.
Διαβάστηκε 2422 φορές
Δημοσιεύθηκε στην κατηγορία
Νέα
Ευρωπαϊκή Ένωση

Ευρωπαϊκό Ταμείο

Περιφερειακής Ανάπτυξη

Με τη συγχρηματοδότηση της Ελλάδας και της Ευρωπαϊκής Ένωσης