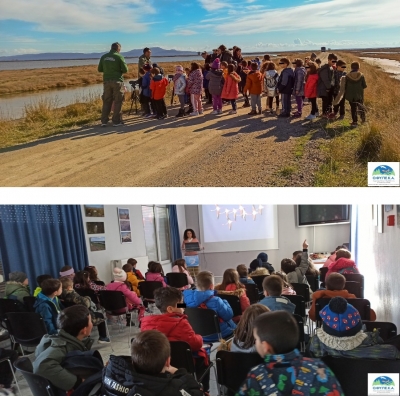 The celebration for World Wetlands Day, held by the Management Unit of Evros Delta and Dadia National Parks, on Thursday, February 2, 2023, was realized with great success, in a celebration that takes place simultaneously all over the world.
This year the theme of the celebration was dedicated to the revitalization and restoration of degraded wetlands and was titled: "It's time for wetland restoration."
The celebration took place at the Evros Delta Visitor Center where we welcomed over 130 pupils of Alexandroupolis from the 4th and 9th Primary Schools!
The program included Powerpoint presentation, crafts and of course a visit to the Evros Delta which excited all the young pupils.
Τελευταία τροποποίηση στις Friday, 03 February 2023 12:48
Διαβάστηκε 1952 φορές
Δημοσιεύθηκε στην κατηγορία
Νέα
Ευρωπαϊκή Ένωση

Ευρωπαϊκό Ταμείο

Περιφερειακής Ανάπτυξη

Με τη συγχρηματοδότηση της Ελλάδας και της Ευρωπαϊκής Ένωσης